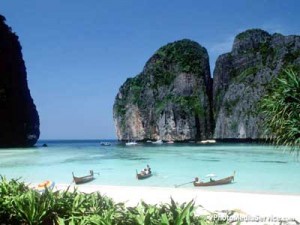 There are different beautiful tropical islands in Thailand. One of them is Ko Lan Island which is located at the southeast of the Bay of Bangkok. Good opportunity to visit this place is to rent a house in Thailand.
Ko Lan Island is situated about 7 kilometers far from popular tourist city Pattaya. There's a ferry which goes from Pattaya to the island every hour. Ko Lan Island has different beaches – quiet and wild or crowded and providing all kinds of services.
The most popular are Tawaen and Tonglang beaches. They are situated near the pier, so you don't need to go far when you get off the ferry. These beaches have all the services like sunbeds, bars and gift shops. Daeng and Thian beaches are more quite but still comfortable and nice. For those who wants to try rock climbing there are wild beaches like Kruad Yai and Kruad Noi.
If you decide to rent a house in Thailand, choose Pattaya or some closest city, so you can reach Ko Lan Island fast.
Which place to choose to rent a house in Thailand?
The closest to Ko Lan Island city on mainland is Pattaya. You can choose one of Pattaya's resorts and rent a house in Thailand. Pattaya is separated to North Pattaya, Central Pattaya and South Pattaya. Every part provides many hotels and different kind of services. So you can choose a resort that will fully meet your requirements and will also provide you opportunity to visit Ko Lan Island.
Have a nice vacation that you will probably memorize for long time!
---
Andra inlägg